Inaugurated in 2009, the Joinville Campus aims to prepare professionals with high technical and managerial competence to work on the development of automotive, subway, railway, maritime, fluvial, air and space transportation systems.
Focusing on the study of projects and scenarios to solve problems in infrastructure, operation and maintenance of transportation systems, the Campus allows the production and dissemination of knowledge related to engineering and applied sciences, comprising both vehicle systems and transportation infrastructure.
History
UFSC's participation in the National Support Program for the Restructuring and Expansion of Federal Universities (REUNI), in 2008, significantly allowed an increase in the number of degrees and seats offered by the university. With REUNI's resources, UFSC built three new campuses in 2009 – Araranguá, Curitibanos and Joinville, and a forth campus in 2013 – Blumenau.
To learn more about Joinville Campus history, click here.
Organizational Structure
Joinville is an off-main campus university campus officially incorporated to UFSC's Charter and Bylaws in 2016. It is managed by a General Campus Office and an Administrative Office. The Campus structure currently includes the Joinville School of Technology (CTJ) and the Department of Mobility Engineering (EMB).
CTJ is a teaching, research and outreach unit dedicated to training professionals with high technical and administrative managerial competence for the development of technical vehicle systems (automobile, subway, railway, maritime, fluvial, air, space and mechatronic) and the study of scenarios and projects to solve problems in infrastructure, operation and maintenance of transportation systems.
In the future, other areas of expertise will be integrated to Joinville Campus as to meet regional needs pertaining to the environmental, social, economic, human, urban and information areas, as well as to those concerning Physics, Chemistry, Biology and Mathematics fundamentals.
Mission
Since Joinville Campus is part of the Universidade Federal de Santa Catarina, it must consider UFSC's mission as a reference to its own development.
The mission of UFSC is  "to produce, systematize, and socialize philosophical, scientific, artistic, and technological knowledge, broadening and deepening students' education for professional practice, critical thinking, and national and international solidarity with a view to building a just and democratic society and also guaranteeing quality of life".
Infrastructure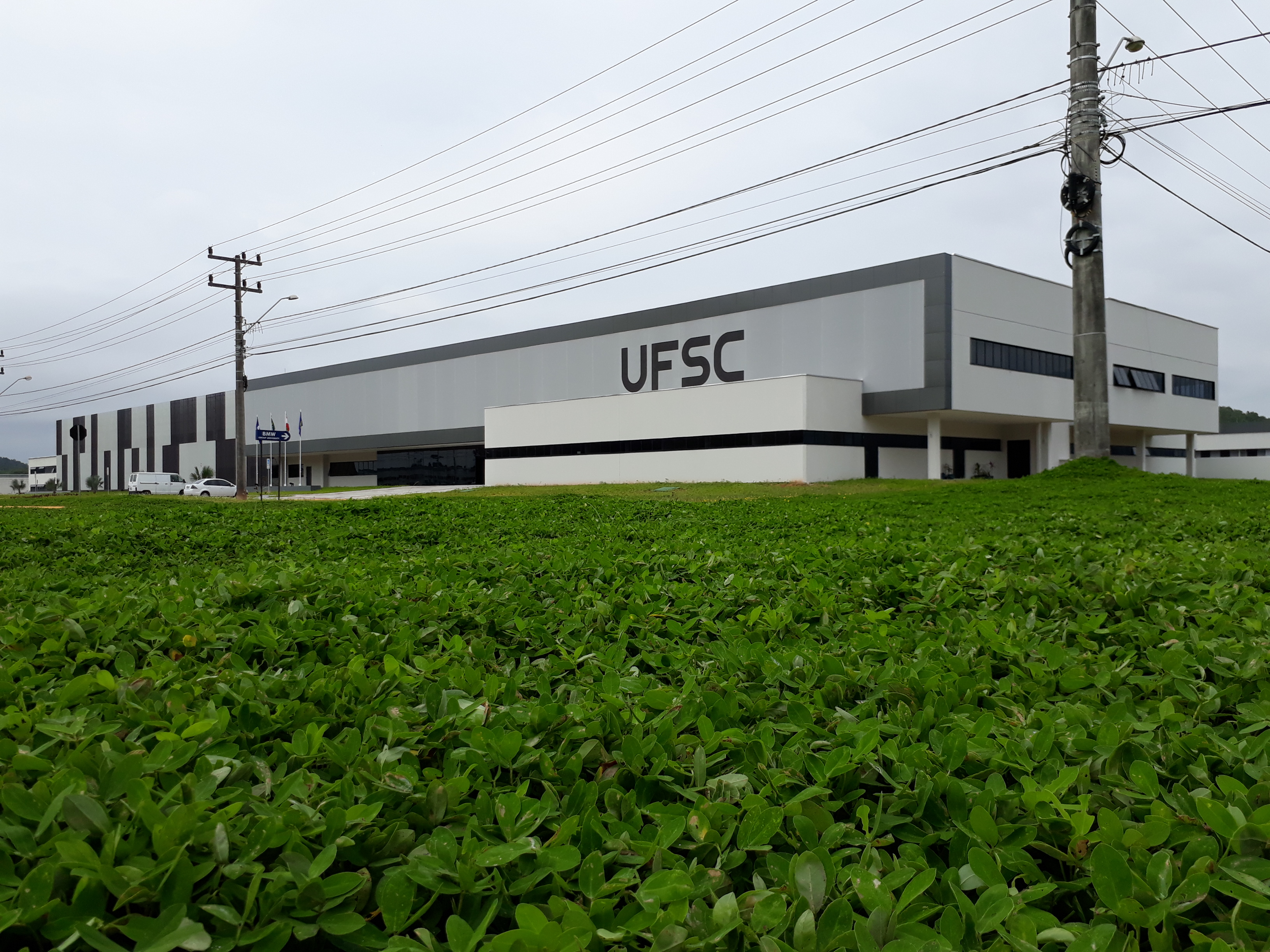 Joinville Campus is located at the Perini Business Park corporate building. It is composed of three buildings: Building U, which houses classrooms, faculty offices, auditorium, administrative offices and a library; Lab Building, which accommodates laboratories and competition team rooms; and Central Building, which consists of the University Restaurant, a communal area and bicycle stands.
The Campus has around 771 parking spaces, covered (183, 54 m²) and uncovered (350 m²) bicycle stands, a sports court, a 1.700,00 m² test track, a wooded boulevard that gives access to the buildings, and a wooded public square with benches.
Regarding environmental issues and the use of new technologies, the campus has a rainwater harvesting system for flushing toilets, LED technology lighting, façades and ceilings designed to benefit from natural light, external sealing panels made of reinforced concrete to improve thermal and acoustic insulation, and a climatization system connected to a heat recovery mechanism that enables air renewal and temperature reuse.
The new campus inauguration ceremony took place on 5 March 2018.
Images of the campus and the electronic mock-ups:
Own headquarters
UFSC owns a 1.181.190,07 m² land in southern Joinville where the Joinville Campus buildings will be later installed.